As a life sciences company devoted to its mission to protect and enhance life by providing medical countermeasures that address serious public health threats, Emergent BioSolutions relies on a highly skilled workforce that spans the globe. Unlocking the full potential of employees and powering a growth mindset that advances the mission are critical. Providing learning and development opportunities that are both relevant and accessible to all is an ongoing priority.
The Challenge:
Emergent BioSolutions is driven by a clear mission: to protect and enhance life. Behind that singular focus are talented and diverse employees working in laboratories, manufacturing facilities, the field, and offices in 19 cities around the globe. Training historically focused on technical skills. For a company responsible for developing and manufacturing vaccines, therapeutics, and drug-device combination products that address threats such as anthrax, smallpox, Ebola, influenza, and chemical warfare agents, to name a few, technical training is essential.
Organizational leaders recognized that regardless of level or function, effectively demonstrating leadership capabilities is also essential for success on the job. They articulated their commitment to professional development and set out to execute a strategy of Development for All. They identified behavioral competencies needed for individual and organizational success, including Customer Focus, Decision Quality, Collaboration, and Courage.
The next step was to identify a connected framework to deliver the learning strategy. They needed a solution that delivered content relevant for all, from individual contributor to senior leader, and accessible by all, whether in an office, a lab, or a manufacturing location.
Simply put, without the content or structure, Development for All was simply not yet achievable.
The Solution:
Carole Tilmont, VP Talent Management and Organizational Development, and Kris Bass, Director of Enterprise Learning, believed microlearning was the key to the learning initiative. They partnered with Blue Ocean Brain to bring in high-quality professional skills microlearning content and design the accessible learning destination needed to reach their diverse employee population. Blue Ocean Brain worked with them to map learning journeys aligned to Emergent BioSolutions' behavioral competencies, along with content reflective of topics that employees wanted to learn, such as stress management and mindfulness.
Taking advantage of Blue Ocean Brain's flexible design, the team chose to brand the solution in a way that would resonate with their employees. This proved to be a powerful implementation tactic that helped boost early recognition and adoption. ebrain, as it was dubbed, seamlessly integrated into their overall learning portfolio while bringing in a fresh new way to learn.

To drive exceptional engagement, they leveraged Blue Ocean Brain's weekly email push notifications, brain training exercises, and new learning content presented daily. Emergent BioSolutions further expanded on the Development for All concept by partnering with Blue Ocean Brain to provide dynamic micro-webcasts on topics like Growth Mindset, The Power of Focus, and Understanding Unconscious Bias to expand learning modalities and to ramp up learning conversations across the organization.
The Results:
The proof is in the numbers: utilization rates of ebrain across every level and job function are remarkably high. On average, 95% of their employees choose to learn regularly through ebrain. The webinars have become a popular learning option, with approximately 1000 participants across the 10 sessions delivered since their 2017 launch. The manager dashboard offers Carole and Kris meaningful insights as their learners engage with the ebrain courses, videos, exercises, and knowledge checks each week.
"That we've been able to sustain that utilization speaks volumes about the value people draw from the platform and the quality of the content," Kris says. "Blue Ocean Brain meets people where they are and allows them to engage with content that is value-added in a very concrete way."
Blue Ocean Brain is also poised to become an element of their new employee toolkit, enabling them to quickly embrace new employees with their mission and vision and engage them with content that supports their success.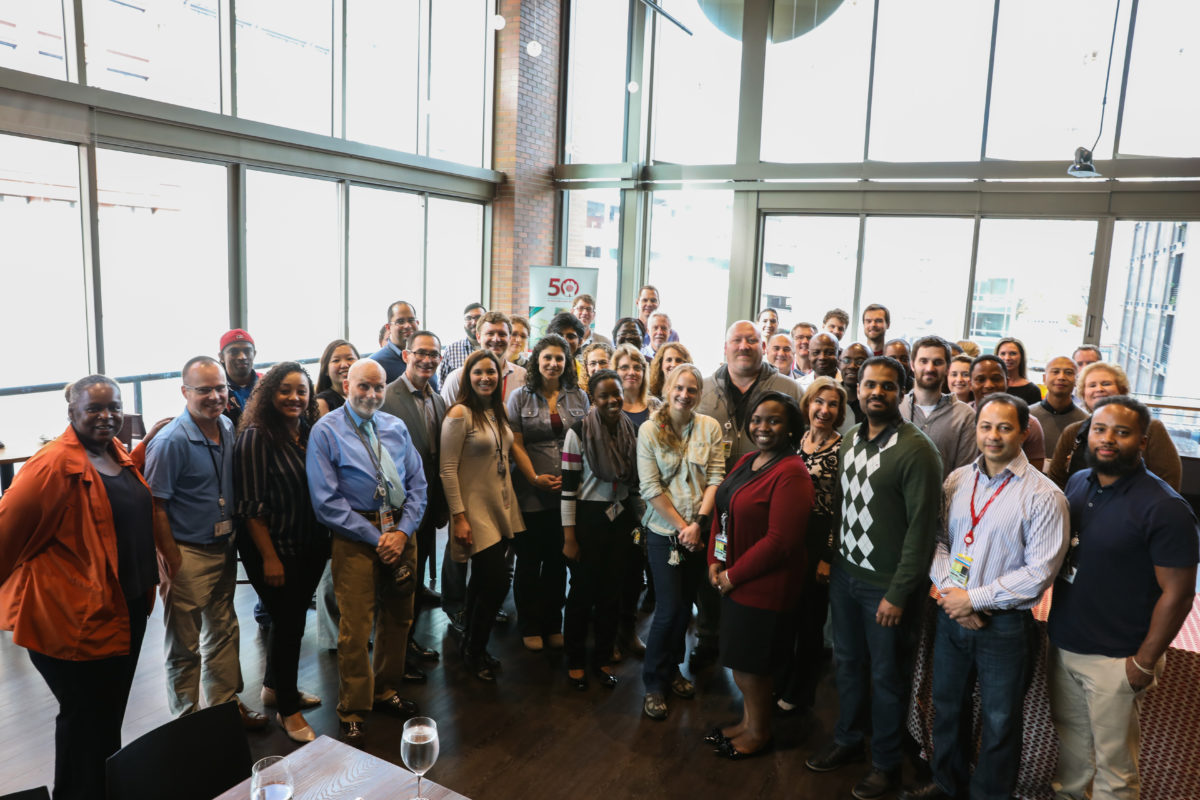 Blue Ocean Brain's content is high-quality and high-caliber. It reaches out across all levels, functions and geographical locations and brings something for everyone. It creates another way for us to come together as a company.

Kris Bass
Carole sees Blue Ocean Brain's game-based learning as something that particularly resonates with their learners. "The friendly competition and brain breaks help reset focus and engage the other side of the brain," she says. While their learners have an exceptional amount of organic participation, Carole and Kris also partner with Blue Ocean Brain's Client Success Team to run contests such as Living Library scavenger hunts to maintain excitement and a sense of community around the solution.
ebrain fits within the larger learning portfolio. When a new management development program was rolled out in 2018, Blue Ocean Brain micro-content was added to the curriculum for reinforcement and practice. The flexibility of the solution and vast library of content allows learning leaders to adjust content based on the needs and interests of the cohorts going through the program.
Now entering their third year with Blue Ocean Brain, Emergent BioSolutions is set to expand their partnership to include new custom content as well as additional educational webinars. Kris adds, "We see Blue Ocean Brain as foundational to ensuring that there are development opportunities for all. There has been significant return on expectation."