The principal benefits of microlearning—that it improves accessibility, retention, and application of learning—are clear. But there's more to the story of why microlearning is such an effective way to upskill employees, boost engagement and improve organizational culture. Here are eight added benefits that explain why microlearning accounted for over 60% of all learning in 2018:
1. Stay nimble and solve specific skills gaps.
With microlearning, companies can tailor topics for learning modules in a "results first" approach, by selecting content that targets identified skills gaps. As employees consume the learning, companies can evaluate whether the identified problem is being addressed and make adjustments as needed. Additionally, as learning priorities evolve, for example a new diversity and inclusion initiative is launched, managers can pivot much more quickly to maintain content alignment and effectiveness.
2. Avoid adding another learning platform.
Many companies struggle with a growing portfolio of learning platforms that require HR attention and IT support. When designed as a digital, cloud- based technology, microlearning can easily layer into your existing learning ecosystem, launching from your intranet, LMS, or LXP to enable one-click access for your learners. Eye-catching, regularly refreshing content draws employees in to your existing platforms to help build learning as a daily habit and drive traffic to your other learning technologies.
3. Enable on-demand talent development.
Josh Bersin estimates that the average employee has only 24 minutes each week to devote to learning. With microlearning, information is condensed to not only allow for quality comprehension, but to account for the time deficits facing today's employees. When built as a digital, mobile-friendly environment, employees can engage with content when and where it works best for them. And to solve for time- sensitive training needs, an easily searchable library of micro-lessons allows for just-in-time learning.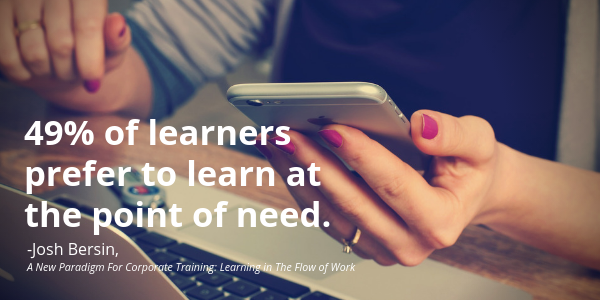 4. Track engagement and comprehension.
With built-in reporting functionality, managers can see who is regularly diving in to the learning and who might benefit from email or social media push notifications. They can also track which topics are getting traction and which are not resonating with their teams, allowing them to ensure content meets learner needs and interests.
Building knowledge check questions into lessons allows leaders to see what employees do and don't understand in real time. When adaptive learning is designed into the program, lessons can be served up based on what they've demonstrated to understand or not yet have mastered.
5. Empower the learning journey.
Microlearning delivers an autonomous experience that helps develop self-directed learners. By allowing employees to choose when and where they learn, microlearning offers employees the opportunity to take charge
of their development.
People are more likely to engage with material if they have greater control over the user experience. It is estimated that microlearning creates 50% more learner engagement, and according to LinkedIn, 58% of employees want to learn at their own pace. Of Blue Ocean Brain's learners, 90% prefer microlearning over any other training tool within their organization.
6. Get more bang for your buck.
According to Dr. Ray Jimenez, author of 3-Minute Learning, microlearning lessons can be produced faster and at less cost than traditional courses. Microlearning modules are shorter, require fewer human resources and less equipment, and can be updated regularly. Curated content can then be consolidated into an online library resource and used as evergreen material for existing or new employees. And as a fully online and self-paced learning method, companies can save the costs related to travel and loss of productivity associated with in-class training.
7. Be reflective of company culture.
Some common myths about microlearning—that it can be overly casual in tone or address topics too superficially—are based in the misconception that microlearning is as static as more traditional learning methods. In fact, one of the most differentiating values of microlearning is that it can be easily adjusted to any workplace.
Microlearning's flexibility allows companies to customize modules to their exact needs and corporate culture. When learners feel they are interacting with relevant material that reflects their company and role, they are more likely to engage with it more deeply and more often.
8. Build learning that inspires action.
Microlearning is designed to be compact and results-driven, with each lesson addressing one main learning objective reinforced with three to five actionable takeaways. By eliminating the "fluff", and focusing on scenario-based content that draws on real-life examples relevant to the learner, completion rates go up and comprehension and retention are boosted dramatically. Topics can then be readdressed through recursive learning to build on new ideas— resulting in the deeper learning required to create sustained shifts in behavior and actions.
These added benefits of microlearning are often overlooked, but when aggregated and tracked over time, companies can recognize the true and deeper impact of microlearning.