Case Study: Building Inclusion and Equity Across the Modern Healthcare System
Atlantic Health System is one of the largest non-profit healthcare networks in New Jersey, employing 18,000 people and more than 4,800 affiliated physicians across six medical centers and 400 urgent care centers or sites of care.
Its mission is to design and deliver high-quality, innovative, and personalized health care. The organization's commitment to excellence is delivered through its PRIDE values system, which focuses on Purpose, Respect, Innovation, Diversity, and Extraordinary Caring to provide the highest quality care and service.

In 2019, Atlantic Health System created a formal Diversity, Equity, and Inclusion (DEI) office and hired a lead that focused efforts and accountability targets around DEI initiatives. By 2020, Atlantic Health's CEO had committed to specific DEI goals related to education, recruitment, and retention across the system.
The Challenges
In working to pinpoint gaps in systems and processes that needed to be filled, Atlantic Health's DEI team quickly identified a need for new learning resources around DEI topics. But reaching and engaging a large, diverse, and extremely busy healthcare workforce with learning opportunities has unique challenges. From mixed work shifts to varied working environments—some workers on the hospital floor caring for patients vs. administrative desk jobs—it was clear that long-form classroom training, traditionally considered the go-to method for delivering diversity and inclusion training, was not the optimal learning medium for their workforce and learning goals.

Adding to these challenges was the fact that the COVID-19 pandemic had already begun to have rippling, damaging effects on the Atlantic Health System workforce. While much of the world was sent home to work, the healthcare industry remained on the front lines providing patient care in the harshest circumstances. Now, not only was it even more difficult to reach people with DEI learning, but their people also needed resources to maintain their growth and development and, just as important, support for their well-being and mental health.

The DEI team joined forces with Atlantic Health's Learning and Development team to search for a new on-demand virtual learning technology that would meet the fast-changing needs of their overall learning objectives and DEI goals. Together they would bring a whole new way of learning to their people.

To achieve their DEI and educational goals, they identified the following learning objectives:
Implement a program that will make DEI learning an ongoing journey, with continuous learning opportunities that begin with education and awareness, and guide learners through upskilling to action.


Deliver a brand-new approach and modality to learning that appeals to and meets the needs of a wide range of employees with varying backgrounds, lived experiences, levels of seniority, and current comfort levels on the DEI learning journey.


The learning must be virtual and accessible at any time of day from a laptop or mobile device.


The learning must be relevant to today's healthcare workforce, engaging enough to draw in even the busiest and most reluctant learners, and agile enough to shift as business and societal needs shift.


The learning must have application for team members as well as their patients to help their workforce build skills around topics that will help them deliver equitable, inclusive care to patients of all backgrounds, cultures, and lived experiences.
The Solution
Atlantic Health partnered with microlearning firm Blue Ocean Brain to develop a brand-new learning program with a complete custom user experience that would serve as its dedicated, enterprise-wide hub for learning and development.

The learning program leveraged Blue Ocean Brain's in-depth library of DEI content to drip out bite-sized lessons on a weekly basis to all employees across each function, departmental unit, and physical location.

The lessons were designed to be consumable in short bursts of time while still being actionable and tactical—making it possible for a learner to dive in and grab high-impact content at any time of the day without disrupting their workflow.
Built for the Healthcare Workforce
The Atlantic Health team worked with their Blue Ocean Brain team to hand-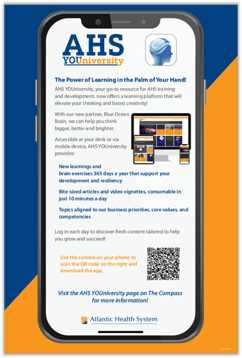 select the content, ensuring the topics would align with the organization's specific goals, skills gaps, and workforce needs. To make the learning as relevant and actionable as possible to its workforce, Atlantic Health selected weekly lessons that would upskill its learners around cultural awareness, active listening, empathy, racial and socio-economic justice, interrupting bias, fostering inclusion, and more.

With the healthcare audience in mind, the content was designed to be inspirational and approachable, to draw learners in and give them opportunities to learn about other experiences without feeling punitive or overwhelming. Challenging topics were often woven into lesson themes tied to pop culture or current events to add relevance, build curiosity, and encourage engagement.
"It was overwhelming to see our engagement numbers with Blue Ocean Brain despite the fact that we were in the midst of a pandemic. It goes to show the resilience and dedication of our team to the community, each other, and themselves".

– Armond Kinsey
Vice President/Chief Diversity Officer
Atlantic Health System
The Blue Ocean Brain lessons were very attention-grabbing and actionable, breaking down nuanced DEI topics into individual learning moments and providing tactical takeaways for how learners could apply the new concept with their teams and in their patient care.
Lessons on identifying and mitigating bias and engaging with people of other backgrounds, cultures, gender identities, and more were woven into the learning journey helping their people build their confidence and competence in delivering equitable patient care.
The Results
The ultimate challenge Atlantic Health was looking to solve was the difficult task of reaching the busy, overburdened healthcare audience with impactful DEI learning, achieving active and ongoing engagement that would positively impact the employee and patient experiences.

Less than a year after launching Blue Ocean Brain, engagement rates were toppling expectations. Their 18,000+ learners throughout the business were accessing:


48,000+ lessons (105,652 articles)

41,428 brain exercises
Feedback from learners across a wide spectrum of functions, levels, and locations also told of the benefits of the new DEI learning program.

Thanks to the tactical, actionable nature of the lessons and the printable one-page leadership briefs, Atlantic Health's people leaders reported:


An increase in DEI conversations with their teams

An increase in comfort levels in guiding DEI conversations

A 7% increase in diverse hires, with a notable portion of those hires coming from within its health system, meaning internal mobility of employees of diverse backgrounds was improving

Tangible improvements related to sourcing and supplier diversity practices
As Armond adds:

"The conversation around diversity, equity, and inclusion is expanding and other departments outside of L&D and DEI are seeing their role and accountability in building inclusion and equity across the health system."


| | |
| --- | --- |
| | In addition to the above exceptional results, both Atlantic Health System and Blue Ocean Brain won Silver in the Brandon Hall HCM Excellence Awards for an exceptional Diversity, Equity, and Inclusion program. |