For the second year in a row, Blue Ocean Brain has been selected for a Training Industry Leadership Training award, this time making the list of Top 20 Companies in the world. This is the third Training Industry award for Blue Ocean Brain, having been selected for their 2020 Leadership Training and Online Learning Library Watch Lists.
Leadership Development and Training is a core service at Blue Ocean Brain, providing ongoing, topical, and inspirational learning that builds high-performing, inclusive leaders for companies around the globe. With fresh learning published daily around content categories such as diversity and inclusion, resilience, coaching and feedback, employee engagement, and emotional intelligence, leaders from the frontline to the c-suite can continually engage with high-impact content that helps empower and grow themselves and their teams.
Selection to the 2021 Training Industry Top 20™ Leadership Training Companies List was based on the following criteria:
Breadth and quality of programs/services and audiences served.
Ability to deliver training in preferred modalities.
Industry visibility, innovation and impact.
Strength of clients and geographic reach.
Company size and growth potential.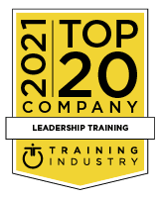 "Part of one of the most competitive and closely watched training sectors, this year's Top 20 Leadership Training Companies are leading the way by providing businesses with strategic and inventive leadership development offerings to meet the needs of an uncertain market," said Ken Taylor, president of Training Industry, Inc. "These companies continue to adjust and expand their topic offerings to deliver the training that companies have needed over the past year, including employee motivation, teamwork and agile leadership."
Blue Ocean Brain CEO Claire Herring said, "It is a proud and humbling day for all of us at Blue Ocean Brain to be recognized as a Top 20 Leadership Training Company by Training Industry. We see the important work our clients around the world are doing in growing more authentic, inclusive leaders and are honored to be a key part of helping execute on their leadership growth strategies."
About Training Industry, Inc.
Training Industry is the most trusted source of information on the business of learning. Our authority is built on deep ties with more than 450 expert contributors who share insights and actionable information with their peers. Training Industry's live events, articles, magazine, webinars, podcast, research and reports generate more than 7.7 million industry interactions each year, while the Top 20 Training Companies Lists help business leaders find the right training partners.
About Blue Ocean Brain
Blue Ocean Brain provides research-based, interactive microlearning to help companies engage, inspire, and develop their workforce. Supporting important initiatives such as diversity and inclusion, leadership development, emotional intelligence, resilience and much more, we design custom learning journeys tailored to our clients' core competencies and skills gaps. Blue Ocean Brain delivers world-class results and whole-hearted service to companies in over 50 countries across the globe. Click here to schedule a personalized consultation to learn how microlearning can help you reach your people with inspiring and high-impact learning designed the way our brains and schedules work best.