For the third year in a row, Blue Ocean Brain has been chosen for Training Industry's Top 20 Leadership Training Companies.
Leadership Development is a core focus of Blue Ocean Brain's content, providing modern, relevant, and just-in-time learning for leaders at all levels. With new leadership development learning published daily, spanning several categories such as diversity and inclusion, collaboration, coaching and feedback, and critical thinking, leaders can continually upskill themselves and more effectively lead and support their teams with engaging and actionable content designed for today's workplace.
Selection to the 2023 Training Industry Top Leadership Training Companies lists was based on the following criteria:
Breadth and quality of program and service offerings.
Industry visibility, innovation, and impact in the leadership training market.
Client and customer representation.
Business performance and growth.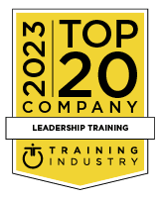 According to Jessica Schue, market research
analyst at Training Industry, Inc., "This year's selections for our Top 20 Leadership Training companies list serve the learning needs of all types of leaders from front-line employees to executives. As one of our most competitive and closely watched training sectors, the companies that make up this list strategically provide their leaders with well-rounded offerings in leadership topics, such as agile leadership, women in leadership, conflict management, and more. Along with many offerings, these organizations provide accurate and diverse metrics to help track learner engagement and reactions through assessments, ROI impact, and more."
Blue Ocean Brain's CLO Claire Herring said, "The workplace evolution of the last three years has created a tremendous need for leadership skills acceleration. Providing valuable upskilling for leaders as they charter new waters under hybrid conditions and economic volatility can help leaders adapt to future challenges and build competitive advantages for their organizations. We are proud to be recognized and driven to create learning experiences that support high-performance cultures."
About Training Industry, Inc.
"We make connections." Our company has a passion for making connections. We cultivate high-value conversations for select solution providers and with our highly engaged community of corporate learning and development leaders and decision-makers. These conversations benefit the entire training industry by surfacing challenges, sharing innovations, and communicating rapidly evolving best practices.
Training Industry is the most trusted source of information on the
business of learning. Our authority is built on deep ties with more than 450 expert contributors who share insights and actionable information with their peers. Training Industry's courses, live events, articles, magazines, webinars, podcasts, research, and reports generate more than 10 million industry interactions each year, while the Top 20 Training Companies Lists help business leaders find the right training partners. For a complimentary referral, visit https://trainingindustry.com/rfp.
About Blue Ocean Brain
Blue Ocean Brain provides research-based, interactive microlearning to help companies engage, inspire, and develop their workforce. Supporting important initiatives such as diversity and inclusion, leadership development, emotional intelligence, resilience, and much more, we design custom learning journeys tailored to our client's core competencies and skills gaps. Blue Ocean Brain delivers world-class results and whole-hearted service to companies in over 50 countries across the globe.
Click here to schedule a consultation and learn how microlearning can help you reach your leaders with inspiring and high-impact learning designed the way our brains and schedules work best.