For the second year in a row, Blue Ocean Brain has been chosen for Training Industry's Online Learning Library Watch List. The award is the second this year for Blue Ocean Brain, having previously been selected as a Training Industry 2021 Top 20 Leadership Training Company.
Blue Ocean Brain's online learning library is at the heart of our on-demand learning experience, allowing employees to dive into professional skills-building content through topic-based or keyword-specific search. With content categories ranging from Diversity & Inclusion to Leadership/New Leader Development to Mindfulness, Emotional Intelligence, Digital Strength, and more, Blue Ocean Brain is a go-to source for just-in-time critical skills-building for modern employees around the globe.
Blue Ocean Brain's online learning library is a living repository of over 5000 learning assets. The library is updated every weekday with new lessons, each utilizing the spaced repetition method of learning (also called the "drip method") to deliver high-impact but approachable learning in the way our brains work best.
Selection to the 2021 Training Industry Online Learning Library Companies List was based on the following criteria:
Breadth and quality of courses and content.
Quality of features and capabilities.
Industry visibility, innovation and impact.
Strength of clients and geographic reach.
Company size and growth potential.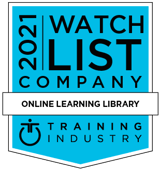 According to Danielle Draewell, market research analyst at Training Industry, Inc, "The organizations featured on this year's Online Learning Library Companies Watch List represent a strong set of companies responding to businesses' need for virtual training. Through new course offerings, repurposing existing content, and reinforcement tools, these companies are delivering top on-demand content to organizations worldwide."
CEO Claire Herring said, "Blue Ocean Brain's living library of just-in-time learning content around a huge variety of topics relevant to today's modern workplace is a backbone of our solution. Giving employees the ability to access self-directed learning is more important than ever in today's fast-paced, hybrid world of remote and in-person work. We are so proud to be a part of their ongoing journeys to professional and personal success, and grateful to be selected again for this prestigious award."
About Training Industry, Inc.
Training Industry is the most trusted source of information on the business of learning. Training Industry's live events, articles, magazine, webinars, podcast, research and reports generate more than 5 million industry interactions each year, while the Top 20 Training Companies Lists help business leaders find the right training partners.
About Blue Ocean Brain
Blue Ocean Brain provides research-based, interactive microlearning to help companies engage, inspire, and develop their workforce. Supporting important initiatives such as diversity and inclusion, leadership development, emotional intelligence, resilience, and much more, we design custom learning journeys tailored to our clients' core competencies and skills gaps. Blue Ocean Brain delivers world-class results and whole-hearted service to companies in over 50 countries across the globe.
Click here to schedule a personalized consultation to learn how microlearning can help you reach your people with inspiring and high-impact learning designed the way our brains and schedules work best.