For the third year in a row, Blue Ocean Brain has been chosen for Training Industry's Online Learning Library Watch List. The award is the second for Blue Ocean Brain this year, having previously been selected as a Training Industry 2022 Top 20 Leadership Training Company.
Blue Ocean Brain's newly revamped library is at the heart of our on-demand learning experience, allowing employees to dive into professional skills-building content. Our new open search feature provides suggested topics for learners as they type. The library also gives users quick lesson descriptions as they hover over lesson images, as well as the option to pin their favorite lessons for easy access and sharing with their team. The library tracks "Trending Lessons" for our clients, allowing learners to see what content is most browsed within their organization. The library also features a "Browse All" section, helping learners easily view our lesson categories, organized by topics and subtopics to make searching more streamlined and showcase more content than ever.
Blue Ocean Brain's online learning library houses over 5,000 learning assets. The library is updated every weekday with new lessons, each utilizing the drip method approach to learning to deliver high-impact and approachable learning in a way that maximizes retention and engagement. Selection to the 2022 Training Industry Online Learning Library Companies List was based on the following criteria:
Breadth and quality of courses, features, and capabilities
Industry visibility, innovation, and impact in the online learning library market
Client and user representation
Business performance and growth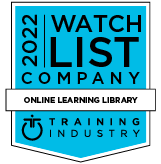 According to Tom Whelan, director of corporate research at Training Industry, Inc, "This year's Watch List winners represent an assortment of providers who have strengths in various specialty topics, industries or supportive features. The solutions offered by these companies bridge the divide between course providers and cutting-edge learning technologies in ways that uniquely help organizations close employee skills gaps and improve learner retention"
CLO Claire Herring said, "With unemployment trending at record lows, companies are focused on creating stand-out employee experiences of continuous learning. At Blue Ocean Brain, we are inspired to design content that empowers people to keep up with the rapidly changing pace of work. Receiving this accolade from Training Industry means so much to our people who are deeply committed to building professional skills content that is fresh, relevant, and consumable on the go."
About Training Industry, Inc.
Training Industry is the most trusted source of information on the business of learning. Our authority is built on deep ties with more than 450 expert contributors who share insights and actionable information with their peers. Training Industry's courses, live events, articles, magazine, webinars, podcast, research, and reports generate more than 10 million industry interactions each year, while the Top 20 Training Companies Lists help business leaders find the right training partners.
About Blue Ocean Brain
Blue Ocean Brain is a pioneering microlearning firm that combines collaborative consultation, award-winning content, and flexible integration options to help clients of all sizes and industries across the globe develop a high-performing culture of inclusion and learning that aligns with and supports their strategic priorities. Produced fresh daily, Blue Ocean Brain's interactive content and modern user experience bring mission-critical material to the on-the-go learner in a way that fits easily into the natural flow of their workday. Blue Ocean Brain's content is designed to upskill busy employees around important initiatives such as diversity and inclusion, leadership development, employee mental health and well-being, critical thinking, change management, and much more.
Click here to schedule a personalized consultation to learn how microlearning can help you reach your people with inspiring and high-impact learning designed the way our brains and schedules work best.