As many teams continue to work remotely or in some type of hybrid manner, companies may feel that they've lost the opportunity for collaboration. That's simply not true! Innovative companies and their leadership and development (L&D) teams have come up with fun and engaging ways to help create and maintain connections between employees—whether on-site or off.
Learning during and after the pandemic
The pandemic has created challenges for managers as many continue to oversee employees in remote and hybrid situations. That separation, this "Great Resignation," is leading to burnout, stress, and feelings of isolation.
As Adam Smiley Poswolsky pointed out in a Harvard Business Review: "Another way to think of the Great Resignation is as the 'Great Disconnection.' In the wake of the pandemic and the vast shift to flexible work from anywhere policies, 65% of workers say they feel less connected to their coworkers." That, he says, can lead to turnover.
Fortunately, there are creative tactics that L&D teams can suggest to leaders, managers, and supervisors to help teams feel more connected through collaborative learning.
Ideas for fostering collaborative learning
Tapping into learning fun
People love opportunities to access information, including training, when it fits best in their schedule. Quick, ten-minute bursts of learning are incredibly convenient and easy for employees to access—whether that's first thing in the morning with their coffee, at lunch, on the train ride home, or in bed.
People also like to learn and discuss things together, though. That can obviously be more challenging in a remote environment. But throughout the pandemic, many L&D teams have come up with very creative and engaging things to foster collaborative experience in remote work environments. Here are some examples that might work well with your teams.
Book clubs
Book clubs can be a great way to facilitate interactions between employees, whether working on-site or remotely. These books don't always have to be about business issues either—they can be fun and simply designed to encourage discussion. Have employees take turns selecting a book, or offer a list of options for them to choose from related to current business needs or challenges.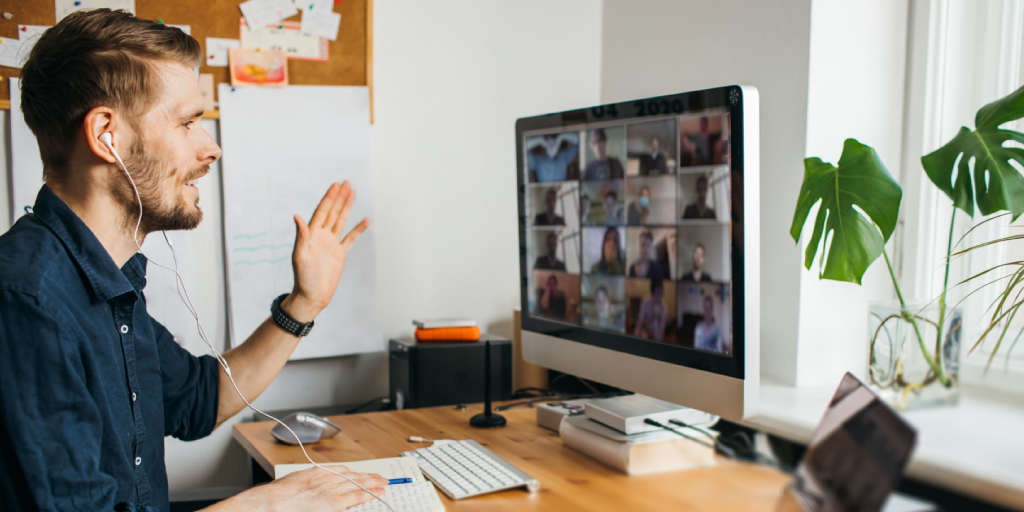 Special backgrounds
By now, we're all too familiar with the ubiquitous squares filled with peoples' faces and rooms in their homes. Zoom meetings have made it necessary for employees and managers to share their personal spaces, but backgrounds are available to both protect their private spaces and add some fun. One fun idea to try is to ask employees to choose a background around some theme and then spend a few minutes at the beginning of a meeting asking them why they selected that background. It's a great way to make connections even when working remotely.
Learning scavenger hunts
There are various ways companies can use scavenger hunts to connect and engage and add some variety to meetings. Some of our clients have created a collaborative learning experience by holding monthly scavenger hunts in their Blue Ocean Brain library. These quick, fun competitions have learners hunt for particular stats or facts within lessons or correct answers in our brain games. The winners get some prizes (often Blue Ocean Brain swag!), it provides a fun break in the day, AND drives learning engagement!
Live webcasts
Live webcasts around a topic with follow-up discussion in large or small groups are a useful collaboration exercise. Many of our clients will partner with Blue Ocean Brain for a live webcast around topics such as allyship at work, allowing for live dialogue and fostering social learning. Following the webcast, they can pose some questions to the group, break them into small groups for discussion, and then bring them back to the larger group to share.
Manager-led discussions
Managers can lead discussions on a wide range of topics to encourage group participation. Our clients often encourage their managers to utilize Blue Ocean Brain Leadership Briefs to prepare for and facilitate learning conversations with their teams. These can be brief learning moments before or after a Zoom call or a separate call explicitly devoted to that topic.
Leaderboards
Leaderboards can also be a fun way to build engagement visually. Leaderboards help employees keep track of their standings on a specific learning journey compared to others (similarly to how digital trivia games work). A little healthy competition can go a long way in making employees feel connected and incentivized to dive into learning.
Being remote doesn't have to mean being alone. Today's technology, combined with easy access to microlearning materials from Blue Ocean Brain can help maintain those connections in fun ways. What steps are you taking to keep employees connected and encourage collaborative learning?