There are a lot of moving parts to keep track of when you bring on a new employee, and a lot to worry about when you are the new employee. A common solution to both of these issues is a well-constructed onboarding plan. While many organizations offer these programs, it appears that most may be missing the mark.
Leadership advisory firm Egon Zehnder surveyed more than 500 executives about their onboarding experiences. They found that many companies think they are doing a good job of onboarding when in reality they aren't.
The biggest reason cited for an unsuccessful onboarding was a lack of integration into the organization's culture. Sometimes referred to as cultureboarding, this initiation into organizational norms and atmosphere is a critical—and often overlooked— step when orienting new employees.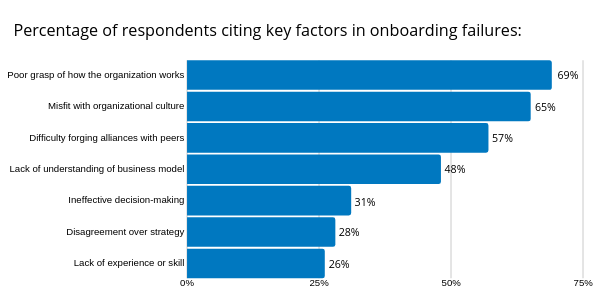 There is more to effective orientation and onboarding than completing HR paperwork, selecting benefits, and reviewing company policies. These are undoubtedly essential things that need to be completed, but Watkins says, "It's the deeper work of integrating new hires where the real work of bosses begins." He offers seven tips to help organizations get it right.
7 Tips for Onboarding Success
Understand their challenges. Recognize that problems are the norm when starting a new job and proactively address potential obstacles for your new hires. If a new hire is reluctant to raise their hand with a problem, issues will pile up and new relationships will be strained.
Accelerate their learning. Supply your employees with the new technical knowledge they need to do the job, but also the cultural and political knowledge about how your organization works so they can be productive and feel connected sooner.
Make them part of the team. Practice inclusive onboarding. Introduce the new hire to the team and explain everyone's role. Do it sooner rather than later so everyone can be a part of helping the new team member get acclimated.
Connect them with key stakeholders. There are likely people outside of the new employee's team who are important to know, so be sure to make introductions.
Give them direction. Set clear expectations. Tell the new employee what needs to be done, how to go about doing it, and why it matters. Then give them a point of contact to go to when help is needed.
Help them get early wins. The sooner you start celebrating success, the better; it makes employees feel valued, builds confidence, and generates momentum.
Coach them for success. After the initial onboarding, continue to connect with and coach your employees. Even a simple "How are you doing in the new role?" now and then can go a long way.
"Onboarding is a magic moment when new employees decide to stay engaged or become disengaged."

Amy Hirsh Robinson, The Interchange Group in Los Angeles
The onboarding process lays the foundation for an employee's success. It could set them on a course to either become loyal and productive or confused and disengaged. Amy Hirsh Robinson with the Interchange Group suggests that after the initial orientation, organizations should survey new employees to check whether their expectations are being met and then continue with regular check-ins.
Doing this sends the very important message that the organization is invested in the employee's successful integration and growth during a critical period of initial adjustment.