Blue Ocean Brain has been chosen for Training Industry's Online Learning Top 20 List. The award is the second for Blue Ocean Brain this year, having previously been selected as a Training Industry 2023 Top 20 Leadership Training Company.
To further strengthen our catalog, Blue Ocean Brain formed an official partnership with TED. Through collaboration between BOB and TED, videos will be curated from the TED catalog and will align with new and existing Blue Ocean Brain learning. This partnership allows us to deliver unique talks from leaders across a range of industries and adds accuracy and relevancy to our lessons.
Blue Ocean Brain's newly launched content scheduler tool is another game-changing enhancement to our on-demand learning experience. It empowers learning leaders to self-curate their organization's content, helping them align monthly learning with their organizational goals or initiatives. The tool has two options for scheduling - directly from the catalog or in a calendar view. The tool also gives clients the ability to schedule content from the library up to a full year in advance - a completely new feature to our platform.
Blue Ocean Brain's online learning library houses over 5,000 learning assets. The library is updated every weekday with new lessons, each utilizing the drip method approach to learning to deliver high-impact and approachable learning to maximize retention and engagement. Selection to the 2023 Training Industry Online Learning Library Companies List was based on the following criteria:
Breadth and quality of courses, features, and capabilities.
Industry visibility, innovation, and impact in the online learning library market.
Client and user representation.
Business performance and growth.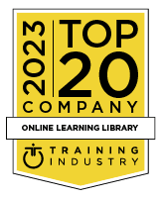 "The companies chosen for this year's Top Online Learning Library list feature strong, comprehensive solutions and a wide array of quality courses
within their libraries," said Jessica Schue, market research analyst at Training Industry, Inc. "These companies offer impressive tools,
assessments and advanced technologies for better and more accurate learning pathways to better the learning experience and keep engagement high."
CLO Claire Herring said, "Right now, organizations with exceptional learning cultures are locked in on building specific professional skills in their leaders. Leaders who build trust across teams, communicate clearly and with a sense of urgency, and enable a growth mindset in others are providing a sustainable competitive advantage for their companies. At Blue Ocean Brain, we are investing heavily in new microlearning content that grows these skills and aligns with the priorities of our clients. Receiving this award from Training Industry affirms our commitment to building outstanding content that feeds leaders new skills every single day."
About Training Industry, Inc.
Training Industry is the most trusted source of information on the business of learning. Our authority is built on deep ties with more than 450 expert contributors who share insights and actionable information with their peers. Training Industry's courses, live events, articles, magazine, webinars, podcast, research, and reports generate more than 10 million industry interactions each year, while the Top 20 Training Companies Lists help business leaders find the right training partners.
About Blue Ocean Brain
Blue Ocean Brain is a pioneering microlearning firm that combines collaborative consultation, award-winning content, and flexible integration options to help clients of all sizes and industries across the globe develop a high-performing culture of inclusion and learning that aligns with and supports their strategic priorities. Produced fresh daily, Blue Ocean Brain's interactive content and modern user experience bring mission-critical material to the on-the-go learner in a way that fits easily into the natural flow of their workday. Blue Ocean Brain's content is designed to upskill busy employees around important initiatives such as diversity and inclusion, leadership development, employee mental health and well-being, critical thinking, change management, and much more.
Click here to schedule a personalized consultation to learn how microlearning can help you reach your people with inspiring and high-impact learning designed the way our brains and schedules work best.